Company
company profile and history
---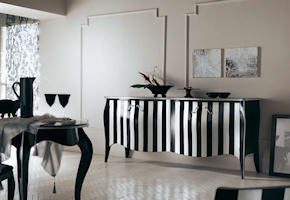 Company Profile
The Company Zanini was founded 30 years ago and is active in the Italian classic furniture industry, following the entire production cycle with professionalism: Zanini analyses the target market, designs all collections, carefully selects the materials and construction techniques, and realises with suitable technologies qualitatively reliable products.
Even if the product is suitable for all clients, Zanini is specialized in producing unrefined furniture, which is mainly oriented to the wholesale market based on a network of local distributors.
Another strong point at Zanini's is the functional management of the warehouse: this ensures the immediate availability of all items listed in the catalogue, offering customers the chance to see and touch the taste and quality of all products, as well as planning the delivery schedules with precision and reliability.
All this is complemented by additional services such as the provision of pictures and advertising material (in paper and digital version) to create complete sales tools, customized if necessary; the supply of related equipment (curved glass, marble, sinks) and whatever else is necessary to satisfy the needs of our customers.
Moreover, for quantities previously defined which do not require handling of our internal warehouse, our office is able to develop estimates of any type of article, based on a drawing or sample, with prices always competitive in relation to the choice of materials and construction requests.
Per offrirti il miglior servizio possibile questo sito impiega l'utilizzo di cookie. Continuando la navigazione, accetti l'utilizzo dei cookie secondo la nostra Privacy Policy.
Ho capito